According to the U.S. Department of Energy, copper theft costs the national economy about $1 billion per year. With increased demand in the United States and overseas, the price of copper remains high. In parts of Texas, 40% of copper thefts occurred in homes under construction. Back in April 2008, when tornadoes were threatening Jackson, Mississippi, many residents were not alerted to the severe weather because five tornado warning sirens didn't work. The reason: the sirens' copper wiring had been stolen.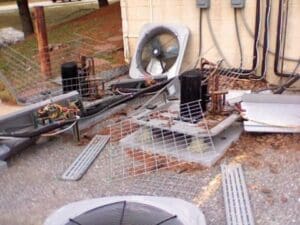 As a result, home and businesses can be an easy target for thieves.  Particularly vulnerable are air conditioning units, copper gutters, plumbing and various electrical components.
Air conditioners are targeted since each unit can contain more than $100 worth of recyclable copper.  (Larger units can contain many hundreds of dollars worth).  Police said that a skilled vandal can dismantle an air conditioner in a matter of minutes and be off site before they even get a call.
One of our customers told us that the sprinkler systems in their neighborhood had been the focus of a group of thieves!  Apparently they waited on the street in the early morning hours looking for underground sprinklers to come on.  Then they made their move!
Although the copper they are stealing is probably worth less than $100 dollars, the cost to you is in the $1,000's of dollars to repair the damage.  Here are some tips to protect yourself:
Report any suspicious activities of theft or other crimes to local authorities
Consider motion-activated outside security lighting
Protect the contents of buildings with security doors and window guards
Increase insurance coverage
If building a home, ask the contractor about the types of insurance they have because stolen copper pipes or copper components from air conditioning units could set back completion for several weeks or more.
Secure air conditioners with AC enclosures
Iron Crafters can custom fabricate a secure enclosure for your outside AC unit. Our enclosures do not impede proper functioning and offer an attractive alternative to wire mesh cages. Contact us today for your free, no obligation quote. Don't wait until summer to discover your copper is missing!