We get a lot of requests for all things fleur-de-lis including doors, gates, fences, railing, even window guards.  We built this door last month for Linda who "had to have a fleur-de-lis design!"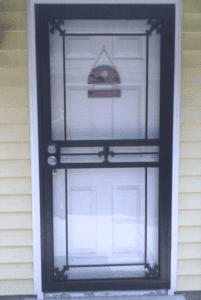 So what is a fleur-de-lis exactly, you ask?  The fleur-de-lis (pronunciation as in lease, not lee) is a stylized lily (in French, fleur means flower, and lis means lily) or iris that is used as a decorative design or symbol.
Although tied to many European countries,  it is particularly associated with the French monarchy.  Fleurs-de-lis crossed the Atlantic along with Europeans going to the New World, especially with French settlers.
The settlement that became the city of Louisville was founded in 1778 and is named after King Louis XVI of France.  Hence our connection!  Even the city of Louisville flag is so adorned.
If you're like Linda and want a truly customized door, give us a call!