Do you have a round top door (because the lintel is arched?) Then, don't worry! Iron Crafters can measure, fabricate, and install a replacement door or a storm door to compliment the arched design.
A lintel can be a load-bearing building component, a decorative architectural element, or a combination of the two. It is often found over doors and windows. From an engineering perspective, the arch is used to carry the weight around the sides of the door.
There are at least six different types of arches (see the illustration below). What we've noticed is that variants of the Roman Arch seems most prevalent in the Louisville Metro area.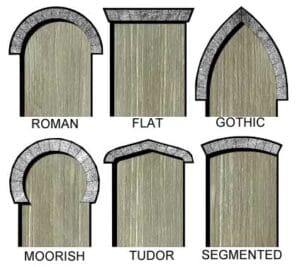 If you have an arched or round top door, then give us a call. We can outfit you with storm doors or security doors to compliment your home.