According to "Ask the Builder", nationally syndicated news-paper columnist, Tim Carter the answer is… Fiberglass!  Fiberglass doors, in his opinion, are one of the top 25 best all-time home building products.  The highest quality fiberglass doors successfully imitate real wood so much so that it is difficult to determine the difference from their appearance.  Yet these doors do not rot, warp, crack, split or twist as a solid wood door might over time. Beware, not all fiberglass doors are the same! Only the high-quality fiberglass doors get his praise.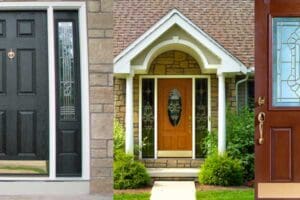 Here at Iron Crafters you'll find high quality Amish-made Provia fiberglass doors. Provia has two lines of fiberglass entry doors: Heritage™ and Signet®. Heritage Fiberglass doors feature enhanced woodgrain texture, improved definition embossing and a hardwood edge to prevent warping. All Signet Fiberglass doors exhibit our exclusive DuraFuse™ Finishing System featuring P³ Fusion, allowing us to offer an industry-best 10 Year Finish Warranty!
Here's a Provia commercial that shows you the beauty and detail of these fiberglass doors.
[youtube]http://www.youtube.com/watch?v=7bBAITnD2Mk[/youtube]