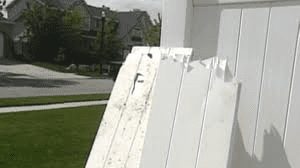 Teenagers love those vinyl fences!  One more reason to install an iron fence.
The surveillance video link below shows girls ramming into a vinyl fence repeatedly until they actual break through several of the white plastic slats. They are recorded laughing as they run to the getaway car.  It may be fun and games for them but not for home owners.
This homeowner has replaced more than 30 panels in his vinyl fence and incurred quite a bit of cost to do it.
[youtube]http://www.youtube.com/watch?v=2_Auirg_Pjk[/youtube]
Now, if this home owner had installed an iron fence we wouldn't be having this discussion now would we?  Let us help you build your fence to last – call Iron Crafters today!