Did Wrought Iron Sink the Titanic?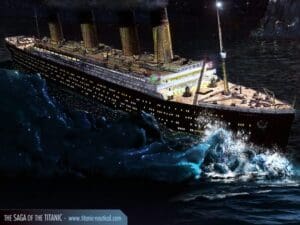 There were more than 3 million rivets holding the steel plates together on the RMS Titanic. Modern forensic evidence seems to suggest that some of these rivets in the front of the ship were wrought iron and not steel. When the Titanic struck the iceberg that night in 1912, the impurities in those wrought iron rivets caused them to sheer and opened up the steel plates of her hull like a zipper.
Wrought Iron versus Steel
Folks often call asking us if we install wrought iron railing. We do in the sense that it is an iron product (actually 16 gauge steel) and that it's been forged ("wrought"). Wrought iron is a general term for what we think of when we look a railings and gates, but is also used more specifically for finished iron goods referring to the "act of making" or "being wrought." Steel is made from iron by removing the "slag" or impurities during the refining process.
In fact, all of our Iron Products are made from strong steel that will hold up for years – even if they do happen to come in contact with an iceberg! So, breathe easy… your Iron Products from us will give you years of strength and beauty!